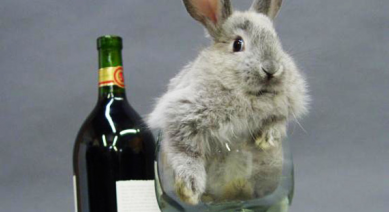 Mrs. Bunny has selected 4 Wines (1 Sweet White, 1 Dry Rose, 1 Dry Red & 1 Dessert Wine) and 2 Hard Ciders (1 semi-sweet & 1 a little dryer) to pair with your Easter Meal.  Whether you are looking for wine or hard cider to pair with your Appetizers, Brunch, Ham, Lamb or Dessert we can assist.  All 4 Wines are 20% off and Both Hard Ciders are 10% off thru Saturday, March 31, 2018.  You might want to stock up…!
Honey HAM ~ On the Sweet Side~ Sweet Beginnings will enhance the sweetness of your Honey Ham as well as cut through it's saltiness with the smooth, sweet tropical fruit flavors this lovely wine posses.  Slightly carbonated Apple juice fermented with Honey…will absolutely pair with Ham & Brunch favorites.  The semi-sweet Cyser is a cider refreshment but with wine complexity.
Brunch/Appetizers ~ Maybe a Little Dryer ~ The Estate Grown Dry Rose' offers inviting soft cherry and subtle pineapple notes, that will pair nicely with most "Brunch favorites", Appetizers as well as your Ham.  This crisp light Rose will not over power any dish…which make this the perfect wine before dinner, to pair with simple cheese or ham.
Lamb ~ Prefer a Dry Red ~ Our 2012 Blaufrankisch is a medium bodied dry red with endless layers of flavor…gentle upfront dark purple fruits on the nose, subtle hints of leather and tobacco with a soft lingering finish…making this the perfect wine when serving lamb.  The Oak Aged Hard Cider will also offer a succulent complement with the soft aromas of vanilla, hints of lightly toasted and accents of honey.
We can't forget DESSERT ~ The AMORE' Dessert Wine could be your dessert; however it will be the decadent compliment to your Lamb Cake (aka Pound Cake), Cheese Cake…or reduce it down for an "Adult" toping on you ice cream!!   How doesn't love a Chocolate & Raspberry toping on your ice cream along side pound cake or cheese cake…yes please!
We wish you and yours a Safe and Blessed Easter…Cheers!