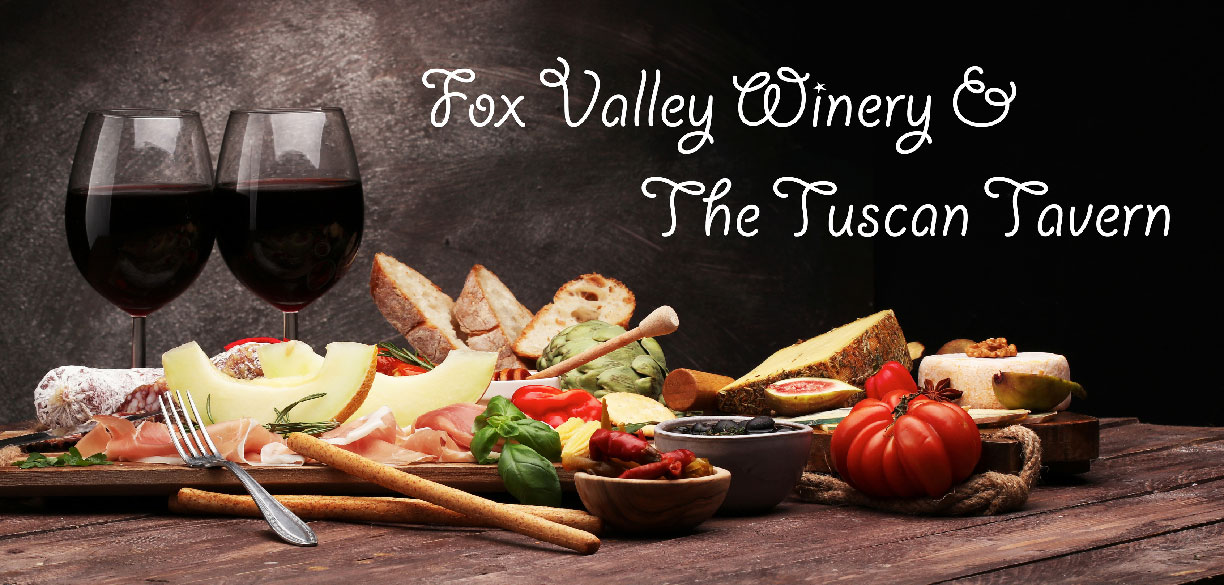 The Oswego Area wine and culinary event of the Season highlighting the talents of 2 of Oswego's artisan venues: Fox Valley Winery and The Tuscan Tavern. Local Winemaker Richard Faltz of Fox Valley Winery and Chef Joe Rocco, Chef of The Tuscan Tavern are teaming up to highlight and share their palates, wine making passion, and culinary talents for a special evening featuring uniquely paired wines and flavors of the Season and the Region.
Chef Joe, and the Fox Valley Winery winemaking team have created an exceptional menu of artisan foods, fresh from the garden produce, and unique limited production local wines to highlight the power, flavors and vino/culinary talents of two of the areas most creative artisan culinary craftsmen.
Reserve now to participate in this one night only special event to mingle, explore, sample, and discuss the flavors and sensations created by this talented team.
Starters:
Pesce Crudo – fresh wild Scottish Salmon belly- seasoned and pan seared- sliced ultra-thin. Served with a drizzle of EVOO – Lemon zest- fennel flower minette foam.
Truffle Burrata Cheese- with Garden Fresh Organic Heirloom Tomatoes- with a reduction of aged balsalmic vinegar on baby arugula with olive oil. Shaved Reggianno Parmesano and shaved black truffle.
Carpaccio- Pan-seared beef tenderloin with sliced baby portabella mushroom, baby capers, Sambucca Hollandaise sauce, and crispy truffle shitake mushroom.
Pasta:
Fresh homemade spinach and cheese ravioli- sautéed in a four cheese saucetouched with a freshly prepared rich tomato sauce.
Imported Penne pasta sautéed with pancetta and homemade Italian sausage in a spicy tomato sauce with Pecorino Romano cheese.
Fresh Homemade linguine sautéed with fresh Manilla clams and East Coast Mussels served in a garlic olive oil lemon wine sauce with a touch of cream and tarragon.
Entrée:
Roasted Rack of Pork Rib chop served with a medley of wild mushrooms, rosemary, thyme with seasoned roasted red potatoes.
Pan Seared Wild Scottish Salmon.
Dessert:
Special selections created and presented by Chef and Winemaker.
And much more…